March 1, 2018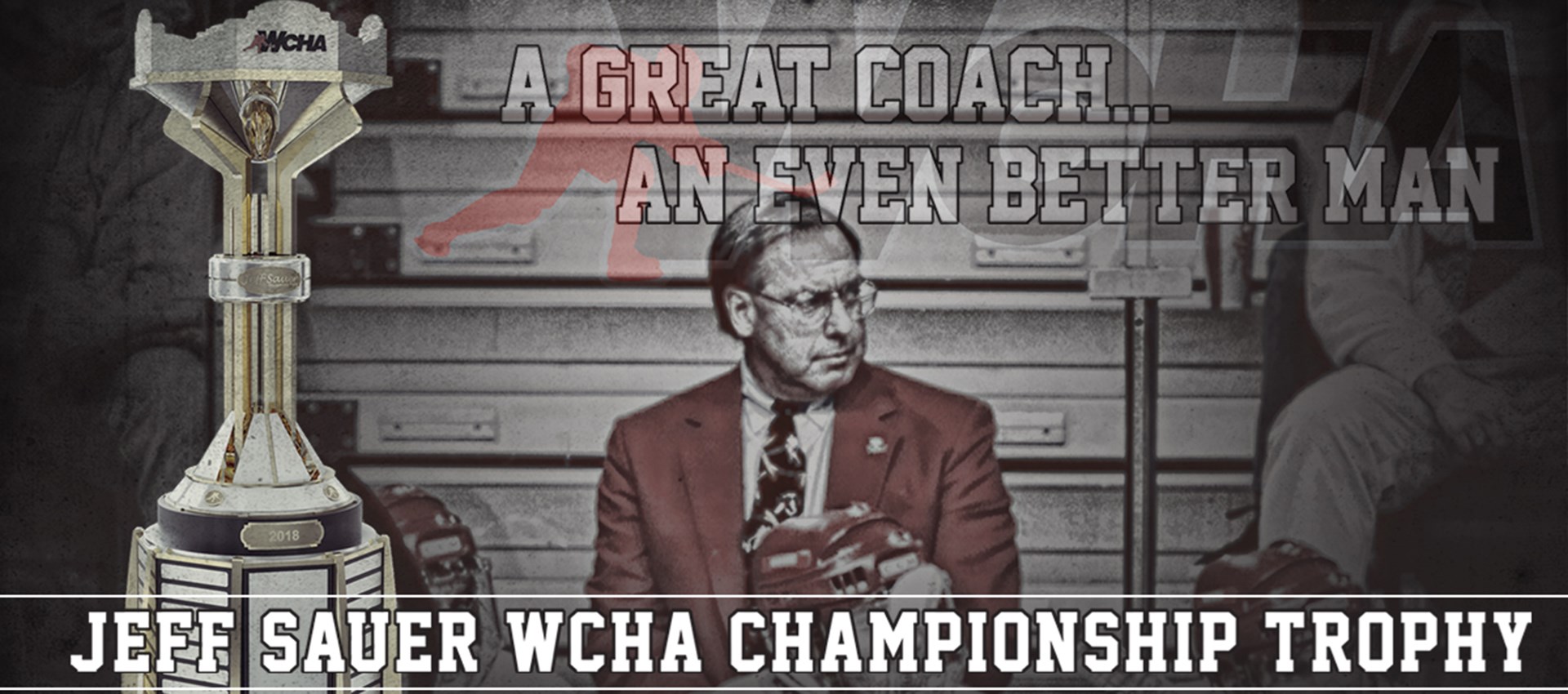 BLOOMINGTON, Minn. – The beginning of each season brings with it the hope and promise that the late Jeff Sauer gave to all. Each day carries the love of hockey that shone through with his ever-present smile. At season's end, a championship – the ultimate symbol of teamwork and unity that Coach Sauer exemplified.

Today, the Men's League of the Western Collegiate Hockey Association (WCHA) is honored to introduce the Jeff Sauer WCHA Championship Trophy, to be awarded each season to the WCHA Postseason Tournament Champion, beginning with the upcoming 2018 League playoffs and championship.

"This is a truly proud and joyful day for the WCHA," said WCHA President and Men's League Commissioner Bill Robertson. "Jeff Sauer embodied all that is wonderful about hockey and everything we strive to represent as the WCHA. A legendary coach and ambassador for the game, Jeff was, above all, a wonderful person. All who knew him are better for the experience, and Jeff's legacy – his passion, generosity, camaraderie and commitment – live on today. We are thrilled to introduce this new tournament championship trophy as a tangible reminder of Jeff Sauer's enduring impact on our league and our sport."

Jeff Sauer's association with the WCHA spanned six decades, beginning with his playing career at Colorado College in the 1960s, continuing through 31 years as head coach of the Tigers (1971-82) and Wisconsin (1982-2002), and for 14 seasons (2003-17) in various consulting capacities to the Commissioner and Association Office. The only WCHA head coach with 30 years behind the bench, he is the league's all-time winningest coach with 665 victories – the 10th most in NCAA men's hockey history. A two-time WCHA Coach of the Year, Sauer guided his CC and UW teams to a pair of league regular season titles and six WCHA playoff championships – the league pinnacle for which teams will now raise a trophy in his honor. Additionally, Sauer coached in 12 NCAA tournaments, advancing to the Frozen Four on three occasions and winning the 1983 and 1990 national championships with Wisconsin.

Said the Sauer family: "Through his lifelong relationship with the league, first as a player, then a coach, and finally an administrator, Jeff valued the league's heritage of success and the active role that the WCHA took in the growth of college hockey for both men and women. We are honored that the WCHA has chosen to name the Championship trophy in Jeff's name, ensuring that his spirit will carry forward as a reminder of both the league's distinguished history and as a guide for the future."
The new, custom-designed, perpetual Jeff Sauer WCHA Championship Trophy is presented by Anderson's Pure Maple Syrup. The trophy, designed by renowned manufacturer Jostens, will stand more than two feet high on its own (and more than three-feet high upon its perpetual base) and will weigh approximately 46 pounds altogether (about 30 without the base). The hockey stick uprights are solid, brass-plated in 24-karat gold, while the rest of the trophy is produced with a mix of metals and aluminum accents, around a polished steel bowl. In the center is a bronze-cast medallion plated in gold with the name "Jeff Sauer" to symbolize the trophy's namesake. The octagon-shaped base is made of the same materials and features nickel silver plates for etching the history of past winning teams.
"For 90 years, Anderson's Pure Maple Syrup has been all about Family, Tradition and Quality," said Steve Anderson, the company's third-generation owner. "With that in mind, we are excited to announce our partnership with the WCHA family as the Presenting Sponsor of the new Jeff Sauer WCHA Championship Trophy, and continuing support of the tradition of excellence in the Western Collegiate Hockey Association!"

Added Robertson: "We are thankful to Jostens for their work in producing a trophy worthy of the WCHA and Sauer names, while we are especially grateful to the good people at Anderson's Pure Maple Syrup for allowing this magnificent tribute to happen."

Sauer, who also spent nearly four decades with the American Hearing Impaired Hockey Association (AHIHA) and coached the U.S. National Sled Hockey Team to gold at the 2014 Paralympic Winter Games, was inducted into the USA Hockey Hall of Fame in 2014 and into the UW Athletics Hall of Fame in 2016. He also collected the Distinguished Achievement Award from USA Hockey in 2000, the John "Snooks" Kelly Founders Award from the American Hockey Coaches Association in 2004 and the Lester Patrick Trophy from the NHL in 2011. Sauer also was inducted into the Wisconsin Hockey Hall of Fame, Wisconsin Athletic Hall of Fame, the Colorado Springs Sports Hall of Fame and the Colorado College Athletic Hall of Fame.

The Broadmoor Trophy, which has been with the WCHA since 1981 and awarded to the league's postseason champion annually since 1985, will be retired.